Fiberglass Insulation for Your Commercial Project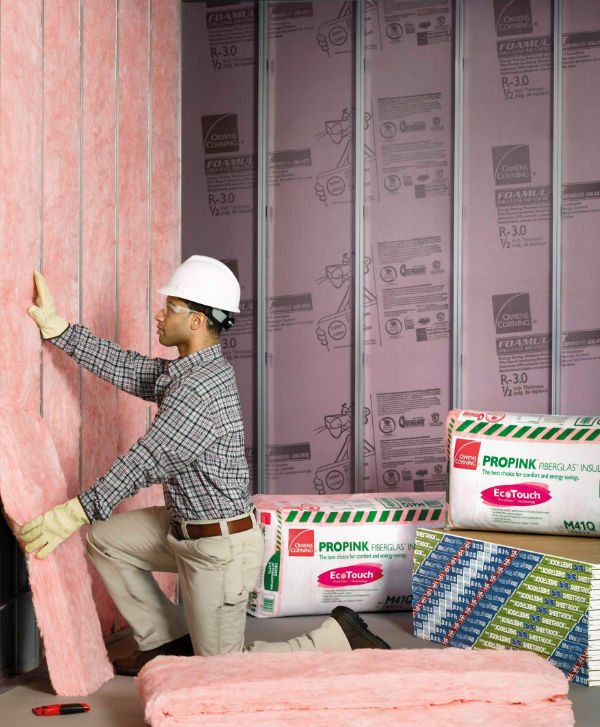 Whether custom-fitting batts or blowing in loosefill, we have been extensively trained and certified to install the right product for optimal comfort and energy savings. We are proud to carry Owens Corning products, which offer exceptional thermal and acoustical performance. Plus, we've gone the extra mile to earn Owens CorningTM Certified Energy Expert® status, giving you and your customers additional assurance.
Products in our fiberglass lineup include:
Owens Corning® PROPINK®
For fiberglass blow-in/loosefill needs, we use the durable PROPINK line from Owens Corning. PROPINK is non-corrosive, non-combustible and easy to install. It resists moisture build up and mold growth, reduces unwanted noise, does not require wet adhesives and does not settle or deteriorate with age.
Owens Corning® EcoTouch® PINK® Fiberglas™
The EcoTouch PINK Fiberglas batt and roll insulation can be used in a wide range of ceiling, wall and floor applications. It is made up of 99% natural materials and includes a minimum of 58% recycled content. It's also Greenguard Gold Certified and validated formaldehyde free.
Owen's Corning® QuietZone®
Owens Corning QuietZone Acoustic Batts with PureFiber® Technology are designed to control noise transmission between rooms, absorbing sound vibrations within the wall cavity to control sound levels.
Our fiberglass insulation products are all installed with confidence by our Certified Energy Experts®, who are extensively trained and certified through Owens Corning.
Contact us to get started on your commercial project today.