Fiberglass Insulation for Your Commercial Project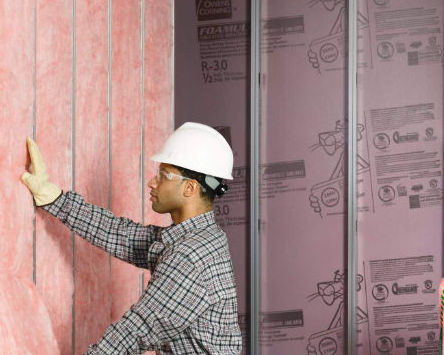 Whether custom-fitting batts or blowing in loosefill, we have been extensively trained and certified to install the right product for optimal comfort and energy savings. We are proud to carry Owens Corning products, which offer exceptional thermal and acoustical performance. Plus, we've gone the extra mile to earn Owens CorningTM Certified Energy Expert® status, giving you and your customers additional assurance.
Products in our fiberglass lineup include:
Owens Corning® PROPINK®
For fiberglass blow-in/loosefill needs, we use the durable PROPINK line from Owens Corning. PROPINK is non-corrosive, non-combustible and easy to install. It resists moisture build up and mold growth, reduces unwanted noise, does not require wet adhesives and does not settle or deteriorate with age.
Owens Corning® PINK Next Gen™ Fiberglas™ Insulation
Creating a comfortable, quiet home doesn't have to be complicated and expensive. From installation to everyday living, it's easy to enjoy comfort with Owens Corning PINK Next Gen™ Fiberglas™ Insulation. This preformed, flexible blanket insulation is made with advanced fiber technology for a superior texture that resists shedding and feels like cotton. It is produced in R-values from 11 to 49, with thicknesses ranging from 3.5 to 14 inches. You can have peace of mind that Next Gen™ Fiberglas™ is made with safe, proven ingredients that naturally resist fire and do not support mold growth. It's not just the next generation of PINK® insulation—it's the new standard. And the right choice for precision, comfort, safety and sustainability.
Owen's Corning® QuietZone®
Owens Corning QuietZone Acoustic Batts with PureFiber® Technology are designed to control noise transmission between rooms, absorbing sound vibrations within the wall cavity to control sound levels.
Our fiberglass insulation products are all installed with confidence by our Certified Energy Experts®, who are extensively trained and certified through Owens Corning.
Contact us to get started on your commercial project today.